A tale of two 5* KLCC condos -the Binjai on the Park & Kirana Residence
The EdgeProp issue of 30 July has an interesting table showing the average transaction prices in PSF over 2016-2020 of the top 5 most expensive KLCC condominiums. I noticed the 11 year old Binjai on the Park units are selling for about RM2000 PSF. Wow ! that is easily more than double the recent transaction prices in PSF over the same period for Kirana Residence- a 20+ year old KLCC condominium that is minutes away from the Twin Towers and has the KLCC Park on its doorsteps too.
Let's do a "side by side comparison" of two 5* luxury KLCC condominiums and see how they stack up in the following categories:
1. Location, Location, Location & X Factor
The Binjai's USPs and X Factor
The Binjai on the Park twin tower blocks are the only condominium towers within the KLCC development, a fact their website by the developer delights to highlight as its X Factor. And there are of course the Instagram worthy views of KL's iconic Twin Towers from every unit. As a extra bonus, if you buy a unit at the Binjai your next door neighbors will almost certainly comprise the cream of Malaysia's corporate elite. So there is the added catchet of owning a residence where you have the chance to run into several pillars of high society on the way to your daily morning jog at the 50 acre KLCC Park on your doorstep.
The Kirana's USPs and X Factor
But I still can't fathom why a nice view of KL's iconic Twin Towers, having the KLCC Park on its doorstep and nice neighbours is worth paying a whopping premium of RM1000+PSF. After all Kirana Residence while not literally at the doorsteps of KLCC Park, it's as near as possible -a short 100m away, separated by a car park driveway. While you can't see KL's iconic Petronas Twin Towers (PTT) from each unit, you can always take your guests up to the 22F pool deck and show them a 360 view of the gorgeous KL skyline and of course the PTT.
And then there is Kirana's X Factor - graceful wrap around balconies that curve gently and serve a useful function as a tropical sun shade. Kirana's relatively large balconies are uncommon in the KLCC. Most balconies in KLCC condos are tiny, barely able to squeeze in a sun lounger or a table and two chairs. .
Note & Disclaimer : I am a owner of a Kirana Residence unit since 2000 and a former committee member of the Kirana Management Corporation . So readers of this blog should be forewarned this side by side comparison is not going to be totally unbiased.
Maybe a clever property agent aka "KLCC Area Specialist" would like to enlighten an old foggy like me why two KLCC condominiums more than 10 years old, similar access to the KLCC Park and 5* amenities should have such a wide disparity in asking prices. But please don't start by telling me "the market will pay what it wants.* If a client had asked me 30 years ago when I was in stockbroking research why Public Bank had a higher price earnings ratio than say Bank Rakyat then and my reply was "the stockmarket will pay what it wants" , I'm pretty sure he would end up rolling on the floor, laughing away. You see investment analysts and property agents are supposed to know how to value stocks or properties. 😜
Source EdgeProp News 30 Jul "KL property remains attractive"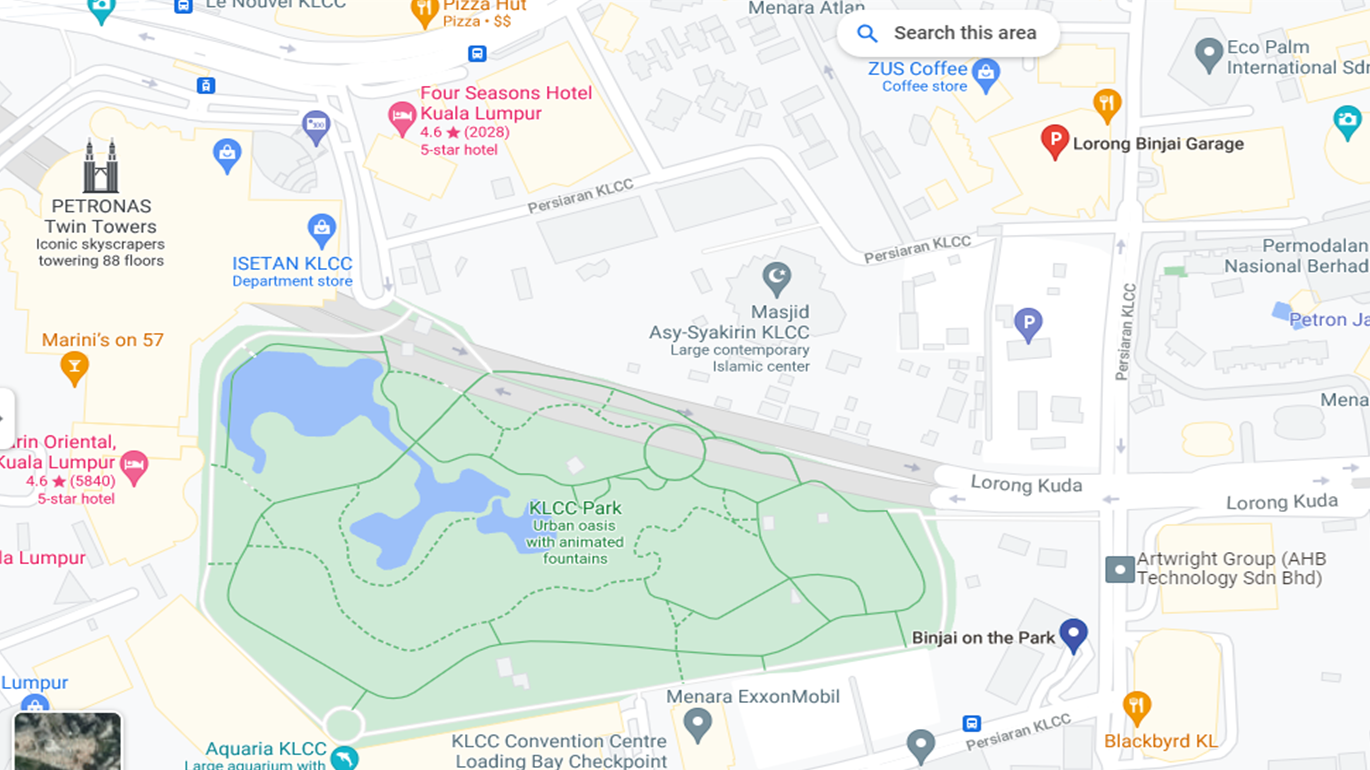 Binjai on the Park has unblocked views of PTT Source Google Maps
Kirana Residence views of PTT are partially blocked by other buildings in front Source Google Maps
Here is my personal comparison of amenities on offer to residents of the two 5* KLCC condominiums based on what I see listed on the Binjai website and 360 Kirana Residence website. If I have inadvertently left out new amenities that the Binjai has introduced since it's website was last updated, please let me know and I will correct it as soon as possible.
The Binjai has a squash court and function room, the Kirana doesn't. Each Binjai unit has its own private lift lobby, the Kirana units from Levels 3 to 16 share their lift lobbies with just one other unit. Kirana units on higher floors have their own private lobbies. Both have 24/7 concierge service, integrated security systems, lobby lounges, pools ( but Kirana Residents enjoy access to TWO pools on the 22F (shared with Ascott KL guests) and 2F (exclusive to Kirana Residents), a gym, a spa, a tennis court, children's playground, on-site building manager, optic fibre broadband internet service.
Now it's the turn of Kirana to face the spotlight. The Kirana does have a double height restaurant literally on its doorstep (currently vacant), a drivers waiting room equipped with TV, intercom and tea/coffee making facilities. Yes like The Binjai, Kirana has its own X Factor -a private dining area with cooking facilities and a covered cabana with a bar counter that residents can reserve for their exclusive use. Just bring your own caterer and turn on the party lights.
Now when we look at the range of individual transactions over the past 5 years, again with data from EdgeProp a different picture emerges. In fact there has been a marked decline in the PSF achieved for smaller Binjai units in recent years.For example, the latest transaction shown was in August 2019 for a 2,300 sf unit that fetched RM1,321 psf. Just two years ago, a bigger unit of 3,200 sf fetched more than RM3000 psf, representing a drop of over 50%. Note however, EdgeProp data does not have any. transactions in 2020 and 2021 - maybe there Binjai units transacted but not reflected in the Napic data base.
The price decline in psf over 2017 to 2019 is also partially mirrored in Kirana. For example a 2300sf unit fetched RM965 psf in 2017. But in the following year a larger 3200sf unit on a low floor fetched just RM709psf. Prices recovered somewhat to RM785 psf in 2019. But the salient point to note is that in the recent peak of 2017 Binjai prices were about 3x that of Kirana in psf. The price premium over Kirana has narrowed since then. But as at 2019 there was still a significant premium.

Want To Sell Or Rent Your House?
Want us to help you to sell or rent your property? Want to get property advice before you decide?
If you are interested for our property services: